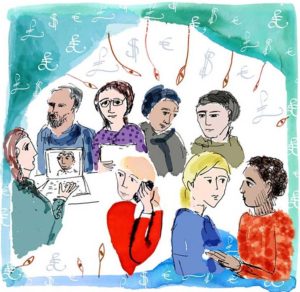 Partnerships seldom achieve their potential when the main focus is on the provision of money (as in donor  – beneficiary relationships). This is because in many partnering situations, money is only part of the story. It is the non-financial contributions that often make a difference. But non-financial contributions, such as enabling trusted networks, reputation, access to decision-makers, specialist competencies, local knowledge, are seldom taken into account.
Improving partnership performance appears not to lie in shifting power and money away from funders* to beneficiaries, but rather to work out how partners can share power and resources. The need is for collaborative resourcing and accountability models that combine financial and non-financial contributions in a single framework. These are the conclusions of PBA's Working with Donors initiative (2017-2019).
For key learnings, see here.
Funders as Partners is a 3-year project seeking to gather and share knowledge, insights and experiences of funders operating as partners. The goal is to identify more effective resourcing and accountability models that enable partners and the partnerships to achieve their potential.
If it is true that "all partners are donors, but not all donors are partners"**, our concern is with the following:
How should funders be partnering in order to ensure the partnerships they are financing don't fall short, but achieve their potential?
What does it mean for a funder to operate as a partner in a multi-stakeholder partnership as opposed to operating externally to that partnership?
How can funders build their own partnering skills, capabilities and competencies, as well as those of others?
What does an effective resourcing model for partnership action look like?
"Effective multi-stakeholder partnering aimed at achieving transformational results requires a resourcing model that is fit-for-purpose and funders who have an appreciation for partnering processes and how their financing can impact them for good or ill"
Rafal Serafin, Polish Environmental Partnership Foundation & PBA Associate
"Partnering practitioners report that money is essential for any partnership to function, but that this is not the whole story. Achieving results that are transformational requires non-financial resources to be mobilized and valued by those involved and affected"
Michael Odumbe, Oxfam Regional Platform for Horn, East and Central Africa
"Funders – be they the UN, bi-national donors, family foundations, businesses or individuals – play a critical role in promoting and supporting partnering not just as a tool or method but also as a value, whether to achieve the Sustainable Development Goals or improve a recycling scheme on a housing estate or develop a national food security policy or any kind of initiative that depends on effective collaboration. My experience suggests that many funders struggle to understand partnering and how best to support it as a design, delivery and accountability mechanism"
Brad Henderson, UNHCR & PBA Associate
* The term 'funders' is used as an umbrella term that includes private foundations, bilateral and multi-lateral development agencies, international development NGOs, governments and public agencies, businesses and corporations, faith-based organisations, as well as individuals. Their distinguishing feature is that they provide money with a motivation that is philanthropic in nature and seeking to address a wider social, environmental or public purpose.
** Tennyson, R., Wilde, L. (2000) The Guiding hand, Brokering Partnerships for Development