A Sense of Urgency
This impassioned plea from Ukrainian NGOs for greater solidarity from international humanitarian actors is a challenge to us all: [read here]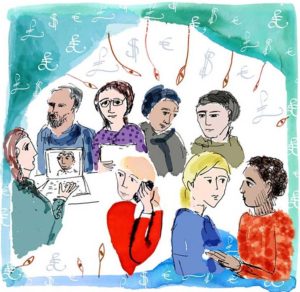 Funders* play a critical role in promoting and supporting partnering not just as a tool or method but also as a value, whether to achieve the Sustainable Development Goals, enable rural sustainability, combat climate change or in any number of local, regional and trans-national initiatives across the globe. However, experience suggests that many funders struggle to understand partnering and how best to support it as a design and delivery mechanism. This means that they can (unintentionally) hinder rather than assist beneficiaries, stakeholders and partners in their attempts to optimize multi-stakeholder collaboration and to achieve greater impacts.
The Funders as Partners project seeks to understand better and increase the impact of funder  partnering efforts and investments by:
Exchanging knowledge, insights and experiences of partnering and funding partnerships;
Collating such evidence as there is about the impact of donors on effective partnering;
Undertaking action research into examples of innovative or successful funding / resourcing practices;
Developing practical information materials and online learning / capacity building workshops to share findings and shape donor approaches going forwards;
Exploring and testing new approaches to donor / partner relationships that will achieve more substantive outcomes.
"Donors are often seen as signatories of a cheque, who remain in the background with little involvement in how the funding is being utilised. That is not our expectation… we want to be seen as a partner in the process along that journey…"
Lisa Doherty, Irish Aid, from Power & Politics – The Consortium-building Story Continues

* The term 'funders' is used as an umbrella term that includes private foundations, bilateral and multi-lateral development agencies, international development NGOs, governments and public agencies, businesses and corporations, faith-based organisations, as well as individuals. Their distinguishing feature is that they provide money with a motivation that is philanthropic in nature and seeking to address a wider social, environmental or public purpose.
Original artwork © Maria Hayes – PBA Artist in Residence, 2012-2018