If it is true that "all partners are donors, but not all donors are partners"* what is good practice for donors when they are operating as partners in a multi-stakeholder partnership and when they are operating externally to a partnership?
* Tennyson, R., Wilde, L. (2000) The Guiding hand, Brokering Partnerships for Development 
Donors play a critical role in promoting and supporting partnering not just as a tool or method but also as a value, whether to achieve the Sustainable Development Goals or in any number of other initiatives across the globe. However, experience suggests that many donors struggle to understand partnering and how best to support it as a design and delivery mechanism. This means that they can (unintentionally) hinder rather than assist partners in their attempts to optimize multi-stakeholder collaboration and its impacts.
The Working with Donors project seeks to understand better and increase the impact of donor partnering efforts and investments by:
"Donors are often seen as signatories of a cheque, who remain in the background with little involvement in how the funding is being utilised. That is not our expectation… we want to be seen as a partner in the process along that journey…"
Lisa Doherty, Irish Aid, from Power & Politics – The Consortium-building Story Continues

Exchanging knowledge, insights and experiences of partnering and funding partnerships;
Collating such evidence as there is about the impact of donors on effective partnering;
Undertaking action research into examples of innovative or successful funding / resourcing practices;
Developing practical information materials and online learning / capacity building workshops to share findings and shape donor approaches going forwards;
Exploring and testing new approaches to donor / partner relationships that will achieve more substantive outcomes.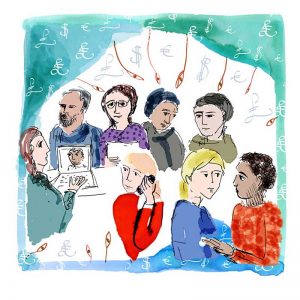 We use the term 'donors' as an umbrella term that includes private foundations, bilateral and multi-lateral development agencies, international development NGOs, governments and public agencies, businesses and corporations, faith-based organisations, as well as individuals. They donate or provide money, services or gifts-in-kind voluntarily with a motivation that is philanthropic or altruistic in nature and with a social, environmental or public purpose.
Original art work by Maria Hayes, PBA's Artist in Residence