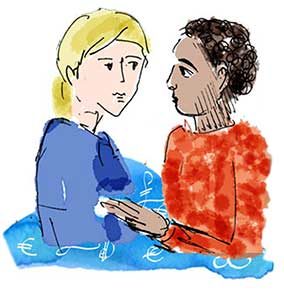 The Working with Donors project is a response to the need and opportunity for understanding better how donors (who are external to the partnership) participate in and contribute to partnering processes and what the potential is for changing the donor: partner relationship to be more effective and have greater impact.
External donors already play a critical role in advancing partnership practice for greater effectiveness and impact – but this is neither universal nor optimal. The key to achieving more lies in building stronger partnerships and more effective partnering processes so that multi-stakeholder collaboration for sustainable development enables rather than stifles the innovation and transformation so urgently needed.
Project outline
A first step is to search for good examples of where external donor-supported partnerships have achieved significant results – of which we believe there are several. Lessons from these will be pulled together to provide solid and compelling evidence on the ways in which donor-supported partnerships have achieved better results than other development and delivery mechanisms and have brought a valuable 'return on investment' to all those involved. The focus will be on partnerships where external financial contributions / money have been a significant factor.
Initial enquiry
This enquiry will aim to understand both the benefits and the challenges to both programmatic activities and the partnering process from a high level of dependence on external donor funding and to find some compelling examples of where the external donor has engaged with partnerships in any of the following ways:
Invested in the partnering process prior to allocating project funding – enabling the partners to build their partnership prior to committing to a specific programme of work
Allocated funding specifically to strengthen the partnership in addition to financing project activities
Pre-agreed an acceptable level of exploration, experimentation and risk with partners to enable innovation and new ways of working – enabling partners to learn as they work together
Found ways of putting a tangible value and reporting on non-cash contributions
Engaged with a partnership as a full partner – attending partnership meetings and working with partners to co-create programmes and to regularly review the partnership itself in terms of unexpected outcomes, added value and impacts on systems
We believe that, in addition to finding a number of encouraging and landmark examples, a number of issues will emerge that will inform our proposed programme of workshops and dialogues that will be designed as 'safe space' in which honest reflection, mutual learning and open discussion can take place.
Issues for exploration
The issues we anticipate being of importance[1] include:
The (hidden or explicit) exercise of power and / or control – how these play out in partnerships and impact a partnership's effectiveness
The challenge of exercising due diligence in an equitable / co-created / locally owned model
How the accountability requirements for the various players (including external donors) impacts and influences partnerships
The tendency to avoid controversial issues or addressing challenges head on – thereby perpetuating unhelpful practices
Fear of 'failure', loss of face and / or becoming marginalised – so playing safe (related to the above point) and small scale, incremental successes being seen as 'good enough'
A lack of confidence in partnering as a paradigm due to: frustrating experiences to date; too little evidence of their value; a lack of understanding of the need for investment
The deeply embedded practice of seeing money as the only currency with which to assess value – so those giving cash have more power and influence than those giving other kinds of contributions
Key activities and timeline
In the spirit of running this project as a genuine partnership, we propose to co-create the follow-on activities once the initial research phase has been completed. We will also draw together the emerging lessons from the experiences of PBA Associates who work with a number of donors in a wide range of contexts. All this will shape the activities and determine the timeline.
Our aim is to complete the research / enquiry phase as soon as possible in 2017 and to use this as a basis for a 2-year project. Our ambition is to impact the way donors are shaping partnering and partnerships, which we believe is timely. For this reason, we envisage a tight timeframe in order to seize the day and maintain a high level of momentum.
Outputs and Outcomes
We are anticipate a range of outputs and outcomes including:
First hand research into donor engagement in partnering
A range of well-written, practice-based, user-friendly learning case studies shared widely
Identification of the key issues and challenges that donors and partners experience in working together
Clear benefits and changed practices as a result of a range of 'safe space' dialogues, workshops and other events exploring the topic
Some clear evidence that partnerships are increasingly created and driven by those who are most directly benefiting from their projects and programmes
For a fuller explanation of the project go to: COUNTING WHAT COUNTS: An invitation to join a project to explore the important role of donors in building capacity for, and increasing the impact of, multi-stakeholder partnerships 
[1] These are based on research findings and workshops to date and they may well change in the light of our proposed further research work